Waxing / Sugaring
The earliest references to Sugaring come from Egyptian Hieroglyphics that describe how slave girls serving the Pharaoh were expected to remove all body hair. Sugaring is one of the oldest methods of hair removal and was developed by the ancient Egyptians.
Pharo Sugaring Gel is made in New Zealand from sugar, water, kiwifruit nectar, aloe vera and manuka honey.
Sugaring is a natural form of hair removal in which the sugaring gel adheres to the hair and not the skin, keeping discomfort to a minimum.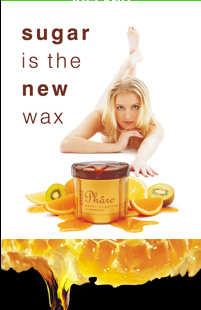 Sugaring is excellent for sensitive skin, as the natural formulation is free from resins and Pharo Sugaring Gel washes off easily with water. Pharo Sugaring Gel may be used on all parts of the body, the warm gel opens the pores to remove the hair from the roots, minimizing breakages and ingrown hair.
Eyebrow: €13
Lip & Chin  €17
Side of Face €25
Arm  €25
Underarm €15
Half Leg  €24
Full Leg  €43
Bikini Line €20
Extend Bikini €30
Brazilian €50